Green Upskilling
Convey the skills gap of your employees and their innate desires for professional development with green upskilling, a fun and impactful solution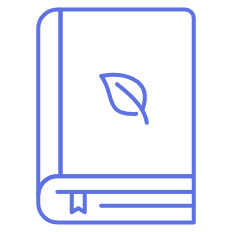 Green Skills
Prepare your employees for the future of work and the skills of tomorrow.
Green Capabilities
Invest in your employees capabilities within sustainability and build a deeper commitment for your goals.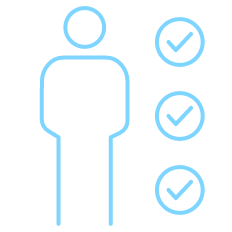 Green Competences
Create a shared language and understanding on key sustainability topics and align your communication to stakeholders.

Upgrade your employees' green skills
Empower

your employees to become an active part of the sustainability goals of your organization

Drive

decisions based on data and employees' motivation

Deliver

an agile workforce, ready to cater to the market demands

Equip

your workforce with the desired skills and competencies to create an impact
Implement a 360 degree approach to your sustainability learning
Enhance your workforce' green skills and ensure they are ready for the green economy demand.
Understanding
Provide clear and relevant information to make your workforce understand how what they do on daily basis connects to the organisation's sustainability strategy and goals.
Practive in a safe space
Allow your employees to acquire skills and practices in a creative, human environment where an open communication line allows them to share new ideas without any judgement.
Self-confidence
Build your employees' self-esteem and confidence in order to boost their satisfaction in the workplace and improve their performance.
Advocate
Empower your workforce to become advocates, let them spread the good word and reinforce your sustainability reputation towards all the stakeholders.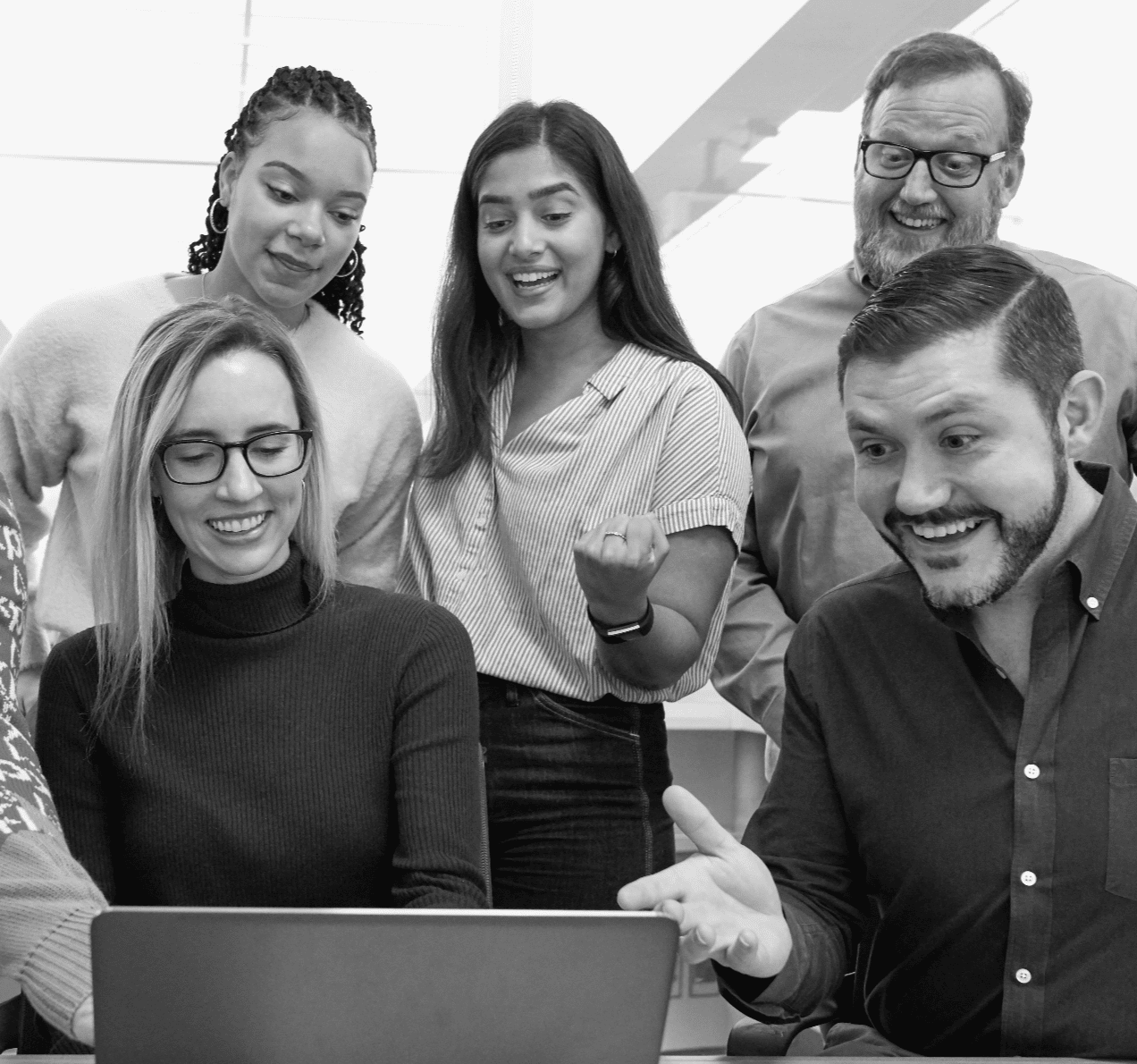 Organizations have the responsibility to help people acquire new skills, adapt for future jobs, and to become fosters of talent.
40%of workers will require reskilling at six months or less by 2025
94% of business leaders report that they expect employees to pick up new skills on the job vs 65% in 2018
Source: Future of Jobs Report 2020
Shift

the skills your organization needs and

thrive

in the future
Book a demo and you will:
Discover the content available
Explore customization options
Hear about our methodology
Take a glimpse at the data dashboard
Learn how we helped other organizations upskill their employees
Get all your questions answered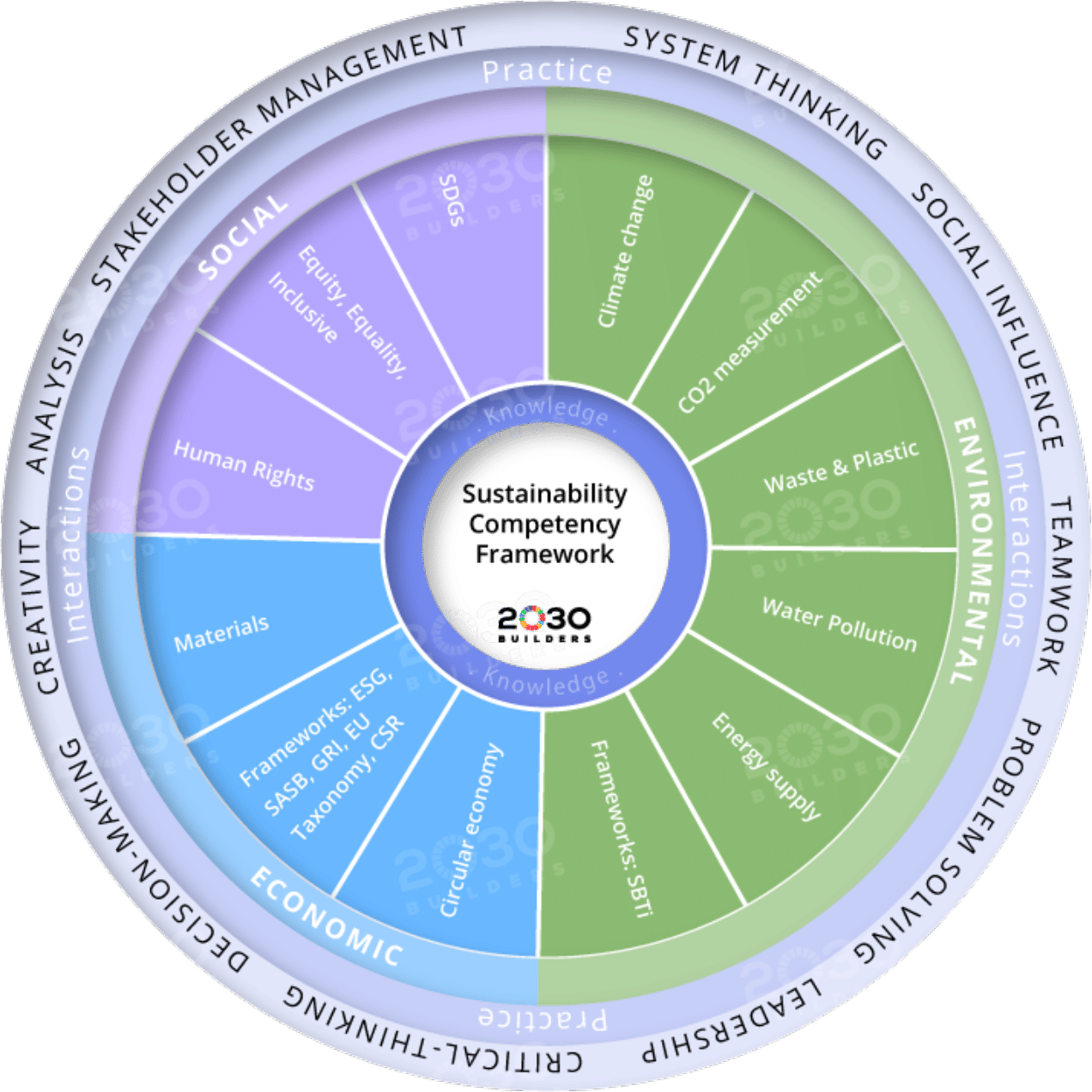 Discover 2030 Builders  Sustainability Competency Framework
Our Competency Framework provides a common ground to employees and guidance to organizations, advancing a consensual definition of what sustainability as a competence entails.
This framework defines a set of knowledge, skills, attributes/behaviours that can help organizations map and identify their employees' sustainability knowledge, analyze the gaps and create a clear roadmap to develop an upskilling strategy.
Why a competency classification framework is crucial for employee development?
Gain time in identifying gaps
Establish a brand reputation in order to attract new talents
Provide employees with management expectations
Ensure that values are shared in a work environment
Deliver data insight about performances and efficiency
Create a culture of professional development
"2030 Builders is the right partner to work with for accelerating our sustainability mission. They were flexible to customize the solution to our needs and very fast in execution, in 3 weeks from contact we were ready to train our teams."
Inger Bygum
Global Sourcing & Sustainability Manager, Alfa Laval
"2030 Builders supported us in creating a bespoke game that spoke to our sustainability strategy. Participants really enjoyed sharing ideas and an opportunity to come together and discuss. The report has been very useful and will play a key role in shaping our sustainability education approach."
Tovah Basierak
Seasalt
"It was especially nice that we ended up with a few sustainable projects that we can work on in our daily work. We had a lot of fun playing it as a game."
Andreas Klinke Johannsen
Velux
"Our employees enjoyed the experience and we were happy to have used a different and more engaging way to convey our message while educating them"
Laura Colantuono
KraftHeinz
"Using this platform will give you one concrete and feasible goal on how to move on with a sustainability culture in your company. This is the first time I have seen such smooth help for companies."
Jesper Toft
CfL
"Platform provides knowledge about the Sustainable Development Goals and I can leave the table with an action plan."
Heidi Bøtcher Sørensen
Copenhagen Zoo
"It represented a wonderful team exercise, and my favourite part of it was sharing, together with the colleagues, our personal contributions to the respective sustainability topic."
Ana Gheorghiu
Bayer

System thinking is a powerful tool that can help businesses better navigate the complexity of...