Corporate Sustainability for Large Companies
Positive purpose in numbers beyond profit. Embed sustainability into your core values and become your employees' and customers' most loved brand.
Sustainability branding is a business imperative
With stakeholders increasingly demanding environmental, social, and governance efforts and consumers expecting brands to act responsibly. Organizations are now required to demonstrate that they have clear sustainability objectives, meet high ethical standards, and operate responsibly in everything they do.
A customized approach for corporate sustainability
| | | |
| --- | --- | --- |
| Real-Time Data | All Frameworks | Agility & Scalability |
| View data segmentation based on brand, location and departments to immediately understand where there is the greatest need for support and interventions. | Access content relevant to any of the sustainability reporting frameworks. | Deploy a flexible and dynamic solution ready to validate and scale sustainability ideation and action. |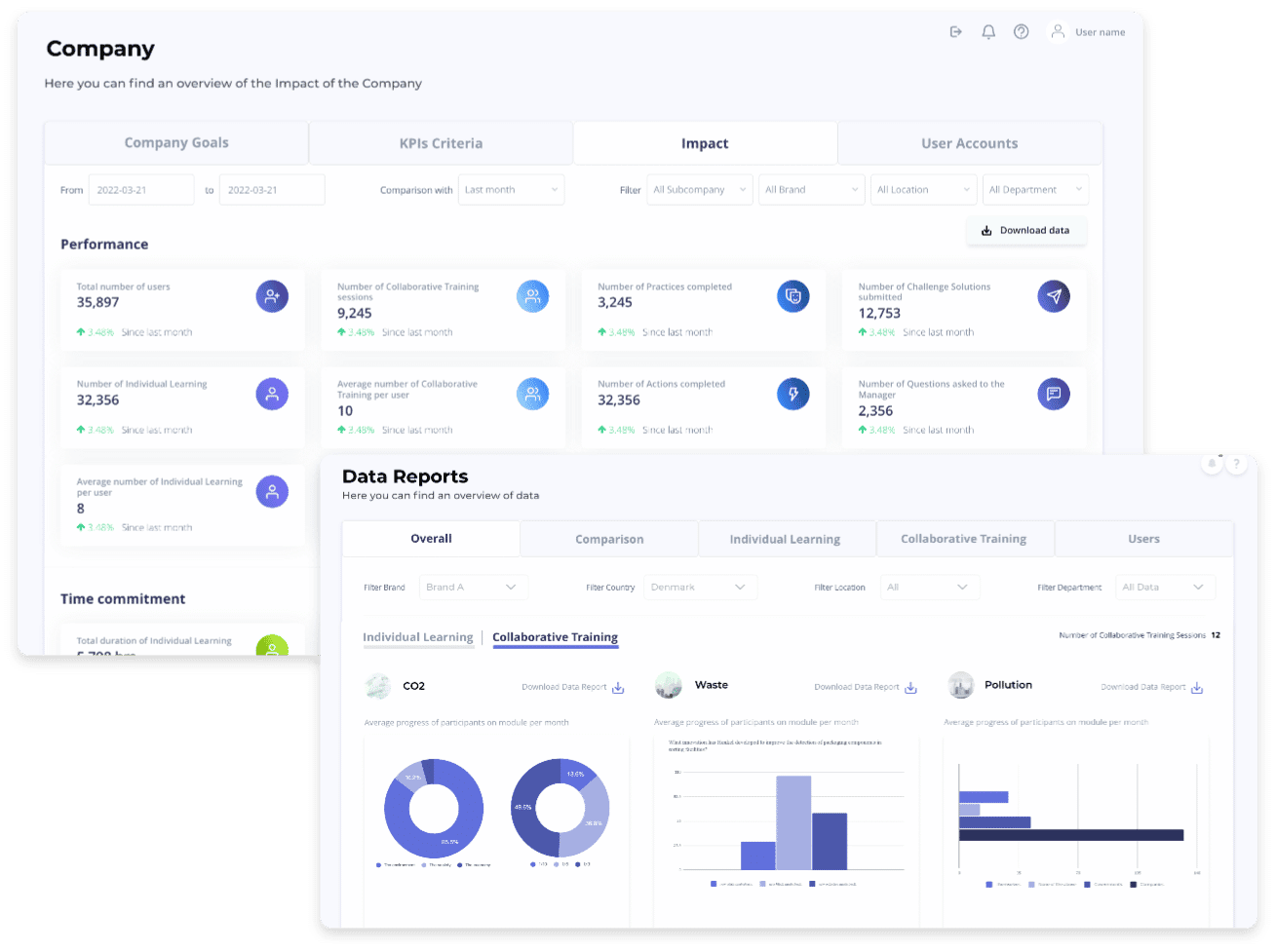 Do you want sustainability to be a part of your culture but you're struggling to implement your sustainability strategy?
Mitigate risks connected to brand reputation and workforce
Find your employees barriers to implement the sustainability change
Eliminate the stress of change for your organisation
Use the insights to plan the next changes that may occur
Gain employees trust and support for sustainable change

Our tools provide an overview for your employee's sustainability journey
Every company has different

challenges

, let us explore how can we deliver

solutions

for yours
Book a demo and you will:
Discover the platform
Find the best fit for your organisation
Learn how others implemented sustainability culture
Explore your customisation options
Get answers to all of your questions with a Q&A

"2030 Builders is the right partner to work with for accelerating our sustainability mission. They were flexible to customize the solution to our needs and very fast in execution, in 3 weeks from contact we were ready to train our teams."
Inger Bygum
Global Sourcing & Sustainability Manager, Alfa Laval
"2030 Builders supported us in creating a bespoke game that spoke to our sustainability strategy. Participants really enjoyed sharing ideas and an opportunity to come together and discuss. The report has been very useful and will play a key role in shaping our sustainability education approach."
Tovah Basierak
Seasalt
"It was especially nice that we ended up with a few sustainable projects that we can work on in our daily work. We had a lot of fun playing it as a game."
Andreas Klinke Johannsen
Velux
"Our employees enjoyed the experience and we were happy to have used a different and more engaging way to convey our message while educating them"
Laura Colantuono
KraftHeinz
"Using this platform will give you one concrete and feasible goal on how to move on with a sustainability culture in your company. This is the first time I have seen such smooth help for companies."
Jesper Toft
CfL
"Platform provides knowledge about the Sustainable Development Goals and I can leave the table with an action plan."
Heidi Bøtcher Sørensen
Copenhagen Zoo
"It represented a wonderful team exercise, and my favourite part of it was sharing, together with the colleagues, our personal contributions to the respective sustainability topic."
Ana Gheorghiu
Bayer

Fashion, one of the most polluting industries Many sources paint an alarming image. The fashion...