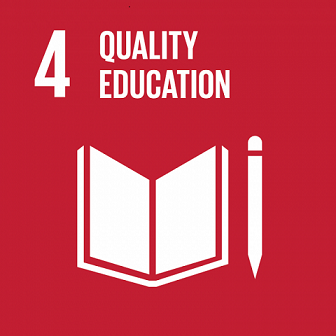 The purpose of SDG 4 is to ensure inclusive and decent quality education and promote lifelong learning opportunities for everyone.
Some of the targets are free primary and secondary education with comparable learning abilities and outcomes; access to affordable technical education to reduce barriers in skills development; eliminating discrimination in education in terms of ethnicity, religion, race, gender or political opinion; ensuring universal literacy and numeracy and guarantee the supply of qualified teachers in developing countries.
How SDG 4 connects to other goals?
First and foremost, it relates to SDG 3: Good Health and Well-being. Securing sexual education and services including providing information about family planning, sexually transmitted infections, gender identity, contraception, etc. Secondly, SDG 4 connects to SDG 5: Gender Equality. Education can empower women which helps them overcome discrimination, claim their rights and participate in decision making. Additionally, SDG 4 relates to SDG 12: Responsible Production and consumption. It provides people with relevant information and increases awareness about sustainable development goals. Finally, SDG 4 connects to SDG 13: Climate Change mitigation. This goal aims to increase awareness about climate change, its reasons and its consequences.
Reasons to work with SDG 4:
Achieving quality education is believed to be one of the most powerful and proven vehicles for sustainable development.
In Western Asia and North Africa, the ongoing armed conflicts increased the number of children out of school. While Sub-Saharan Africa made the greatest progress in primary school enrolment among all developing regions. However, large disparities still remain. Children from the poorest households are up to 4 times more likely to lack education than those of the richest households.
How is 2030 Builders addressing SDG 4?
We believe that SDG 4 is one of the most important goals which build the basis for the other SDGs. For instance, if you want to work in the industry and infrastructure, you need an education. Poverty is also reduced if the number of people is educated. Thus, education is probably the most crucial stage that requires consideration.
SDG 4 aims to ensure that all children complete free, equitable and quality primary and secondary education. It can be achieved if the supply of qualified teachers increases, for example. In addition, providing international cooperation for teacher training and pedagogy in developing countries is important. Building a strong educational system is crucial for both teachers and students.
It is important to provide access to quality early childhood development, care, and pre-primary education. It will prepare children for the next step in their education.
By 2030, the aim is to have equal access for all women and men to affordable and quality education. This would include technical, vocational and university education.
To motivate people to continue their higher education is substantially expanding the number of scholarships available to developing countries. Meanwhile, ensuring that all learners acquire the knowledge and skills needed to promote sustainable development. It would include education in sustainable development and sustainable lifestyles, human rights, gender equality, promotion of a culture of peace and non-violence, global citizenship and appreciation of cultural diversity and of culture's contribution to sustainable development. As a result, new generations will learn about the importance of each goal and maintain harmony in each of them. Consequently, it will ensure the maintenance of global sustainability.
Examples of companies addressing SDG 4:
Microsoft
Microsoft focuses on target 4.1.: to ensure that all girls and boys complete free equitable and quality primary and secondary education leading to relevant and effective learning outcomes. In order to achieve this, Microsoft partners with other companies to provide cost-effective solutions for schools and communities. Thanks to this project, 104 schools and 9 universities on 5 continents have access to the Internet. It covers 400,000 people in total. The first project was at Gakawa Secondary School in Kenya in 2013. It connected its students to the world for the first time. It resulted in a great improvement in students' grades. This problem does not only affect developing countries. An example can be a school in Virginia, the USA where the students have an internet connection at school, however, not at home. Therefore, this project focuses on extending the coverage from the schools to surrounding communities.
Intel
Intel focuses on target 4.4.: to increase the number of youth and adults who have relevant skills, including technical and vocational skills, for employment, decent jobs, and entrepreneurship. The company expands access to technology skills and experiences to prepare youth for the jobs of tomorrow. Above all, it ensures that the next generation of innovators is diverse in terms of geography, economic status, ethnicity, and gender. This program is to inspire young people to become innovators and problem solvers by connecting to technology. It aims to inspire to work with higher education institutions to integrate technology in different academic disciplines.
IBM
IBM focuses on target 4.a: to build and upgrade education facilities that are child, disability and gender sensitive and provide a safe, non-violent, inclusive and effective learning environment for all. The company has partnered with RTI International to improve development approaches in Africa through data analytics. This project will provide tablets for more than 100 schools in Kenya to capture data about students and facilities. From these data, there will be a better understanding of progress and challenges and offer a recommendation for improvement.