Your employees' safe place to practice sustainability.
Create a supportive environment for your sustainability strategy to thrive. The 2030 engagement platform is a playground for your employees to learn and practice their sustainability skills. Safely. Before making real-life day-to-day decisions.
Plug and play. For a resonating impact – just like the water ripples.
If you can't measure it, you can't improve it.
Track the progress of your employees, department and the whole company towards sustainable development goals. The user dashboard integrated into the 2030 Builders engagement platform and a personalised report provides you with all the necessary data for taking effective and data-driven decisions on your way towards sustainability.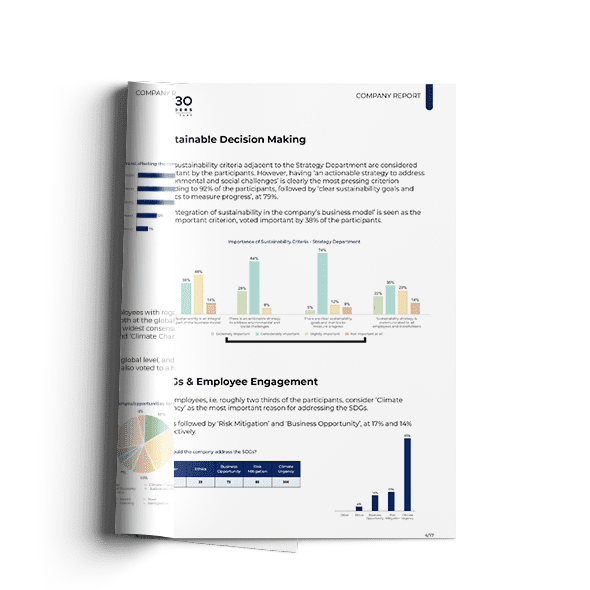 Biking to work daily? Eating vegan for one week?
Sounds like your team deserves recognition! Reward your employees for their sustainability actions. The 2030 Builders engagement platform motivates your employees by engaging them to earn coins and certificates. Your employees will spend the coins to vote for the best ideas on initiatives to further improve the sustainability of your business.
Challenge your team. Try challenge-based learning.
Challenge your team with weekly tasks to step up the sustainability game. Whether you are aiming for net-zero or reducing water consumption. How? We got you covered with our custom cut courses on how to reach your sustainability goals. The 2030 Builders engagement platform provides a collaborative learning experience. It's fun!
Let the sustainability conversation flow
…to keep the green wheel rolling. The 2030 platform engages your employees in the sustainability dialogue. Listen to your employees' ideas and let them drive your sustainability initiatives. Thanks to the in-built features allowing for ideation or addressing managers with questions, it has never been that simple!
Ready for the ripple effect?
Engaged & empowered workforce
Meeting your sustainability goals
Supporting the right sustainability initiatives
Effective branding and communication
Making a resonating impact
"Using this platform will give you one concrete and feasible goal on how to move on with a sustainability culture in your company. This is the first time I have seen such smooth help for companies."
Jesper Toft
CfL
"Platform provides knowledge about the Sustainable Development Goals and I can leave the table with an action plan."
Heidi Bøtcher Sørensen
Copenhagen Zoo
"It was especially nice that we ended up with a few sustainable projects that we can work on in our daily work. We had a lot of fun playing it as a game."
Andreas Klinke Johannsen
Velux