Decentralisation of sustainability actions across the organisation
We recommend this module to organisations seeking to make sustainability an integrated part of their culture.
Embed sustainability behaviour in the entire organisation to have a positive impact delivering value beyond commercial activities.
Challenges we address
Do you want to have a culture that would deliver constantly to your sustainability strategy? Do you want to build a resilient workforce that delivers relevant value years from now?
Scale up the positive impact of your organisation by enabling all employees to take actions that are aligned with your strategic purpose
A responsible enterprise manages to fulfill its broad obligations to society, areas that are not only limited to traditional duties to shareholders. By creating "climate mindful" employees, you will manage to enable a company ethos that is entirely committed to its purpose-driven strategy.
Take action on opportunities across the value chain by empowering ideas to surface
Green growth strategies require sound alignment among suppliers. We help you identify the hidden opportunities inside your value chain by leveraging the in-house competencies of employees. We provide employees with the right sustainability lens for recognizing opportunities for improvements. No doubts- the future of capitalism is green!
Create impact and change from the inside by taking the right steps and designing solutions built for the future
It is difficult to anticipate the future and it is even more demanding to plan for it. This experience helps your organisation to establish a culture of learning and adapting across departments. We believe that implementing the solutions of tomorrow begins with changing employee behavior and green skilling.
Get a glimpse of the product
A customised report for your organisation
Scope the sustainability challenges that could affect your organisation and get insights into your employees' ideas and vision.
For each module, you will receive a personalised report with input from your employees in relation to sustainability and to your organisation's strategy. This valuable information is gathered and presented to you in a report after completing each module and can help you evaluate the perspectives of your employees.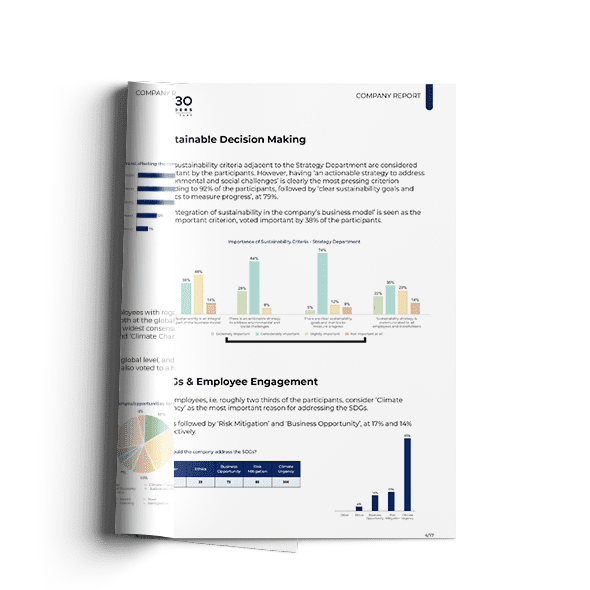 Book a free 30 minutes demo !
In our 30 min demo, you will :
Discover our modules
Find the best fit for your organisation
Explore your customisation options
Learn how others implemented sustainability
Get an answer to all your questions with a Q&A
You may be interested to see also this stages
Clear sustainability understanding
Employee engagement and upskilling