Employee engagement and upskilling
We recommend this stage to companies that are committed to developing their employees with analytical skills to approaching challenges.
With a focus on both personal and professional decision-making, this stage guides participants' analytical approach to look at opportunities, trade-offs, and dilemmas in sustainability.
Learn how to identify areas of action to integrate sustainability into the department's decision-making processes.
Employees will become more engaged, allowing the organisation to become more sustainable within their department and through collaborating with others.
Challenges we address
Do you want sustainability to become an integral part of your organisation decision-making processes? Would you like to equip your employees with useful tools that help reduce their professional and personal climate footprint?
Build a supportive environment in which employees contribute proactively to your sustainability strategy
We create a space that is conducive to employee initiatives and creativity. The experience spells out the business case for sustainability and grounds it in personal values and actions. Together with your employees' valuable insight, co-creates the relevant decision-making for employees to both take home and apply in the workplace. Cultivate innovation at every level of the organisation, through a supportive environment where employee participation is valued.
Create a sense of ownership and accountability towards corporate sustainability initiatives
Contrary to traditional beliefs, what employees need to thrive is guidance and not control, autonomy and directives. The experience fosters individual ownership and encourages active participation, collaboration, support, and accountability.
Employees connect with their work purpose and achieve better results and a sustained impact momentum.
2030 Builders helps you create momentum around your sustainability strategy/goals, by equipping your employees with practical decision-making tools that reach beyond the organisational horizon. We provide a unique experience that bridges the gap between personal and professional life, by capitalizing on transverse concepts that are applicable to day-to-day activities.
Get a glimpse of the product
A customised report for your organisation
Scope the sustainability challenges that could affect your organisation and get insights into your employees' ideas and vision.
For each module, you will receive a personalised report with input from your employees in relation to sustainability and to your organisation's strategy. This valuable information is gathered and presented to you in a report after completing each module and can help you evaluate the perspectives of your employees.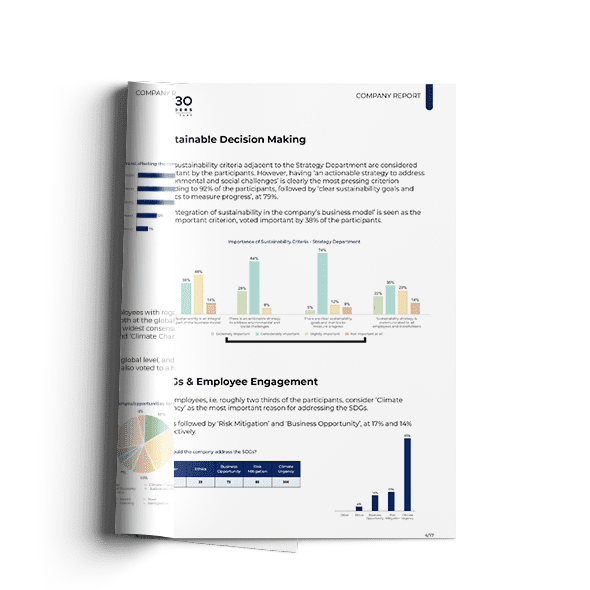 Book a free 30 minutes demo !
In our 30 min demo, you will :
Discover our modules
Find the best fit for your organisation
Explore your customisation options
Learn how others implemented sustainability
Get an answer to all your questions with a Q&A
You may be interested to see also this stages
Clear sustainability understanding
Enablement of actionable ownership & KPIs delivery
Decentralisation of sustainability actions across the organisation