Enablement of actionable ownership & KPIs delivery
We recommend this stage to companies that have designated sustainability Ambassadors/ Champions.
Magnify the sustainability expertise within your organisation by investing in your leaders of tomorrow and equip them with critical skills for the future of your business.
Build equity in your sustainability initiatives and deliver on your organisation's sustainability promise.
Challenges we address
Are you looking for new ways in which you can magnify sustainability expertise? Are you pressured by your sustainability promise of not having enough active contributors? Is your organisation deploying constant resources on sustainability projects and yet they still feel fragmented?
Equip the employees with solid skills of sustainability and support infrastructure to enable self-led actions for sustainable behaviour
Once sustainability becomes an integrated core skill in your workforce, your organisation will have the infrastructure to deliver organic growth and delivery of the sustainability KPIs delivery. As such, organisations will not have to deploy separate resources to advance their sustainability agenda.
Unify the collective actions to support the strategic achievements of targets and improve the overall sustainability KPIs delivery
Today sustainability initiatives are fragmented and, as a result, fail to reach a high level of impact. By unifying the initiatives, and scaling the best practices in your organisation the strategic goals around sustainability will be delivered in a transparent and trustworthy way to an organisational level.
Unleash the potential of your organisation collective knowledge and build ownership around the sustainability culture
Sustainability becomes embedded in your organisation's culture when your employees have ownership of the initiatives and they become an integrated part of the companies projects. Unleash untapped potential and solutions inside your own organisation. The collective knowledge will embed sustainability into a system thinking approach, being able to showcase best practices and learnings from all across organisations.
Get a glimpse of the product
A customised report for your organisation
Scope the sustainability challenges that could affect your organisation and get insights into your employees' ideas and vision.
For each module, you will receive a personalised report with input from your employees in relation to sustainability and to your organisation's strategy. This valuable information is gathered and presented to you in a report after completing each module and can help you evaluate the perspectives of your employees.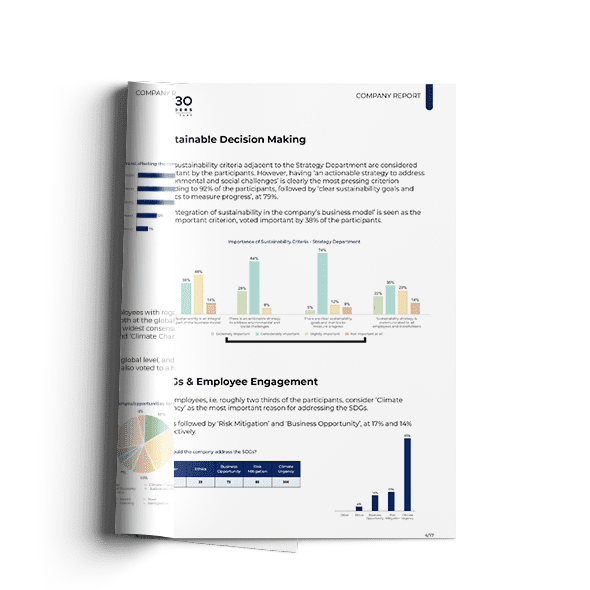 Book a free 30 minutes demo !
In our 30 min demo, you will :
Discover our modules
Find the best fit for your organisation
Explore your customisation options
Learn how others implemented sustainability
Get an answer to all your questions with a Q&A
You may be interested to see also this stages
Clear sustainability understanding
Employee engagement and upskilling
Decentralisation of sustainability actions across the organisation