Clear sustainability understanding
This stage is recommended to companies that have defined their sustainability strategy and wants to empower the organisations in active participation. 
The experience will provide employees with a common understanding of key sustainability concepts and dilemmas
Challenges we address
Do you want to build a common understanding of sustainability in your organisation? Have you been training your employees in sustainability concepts but there is still a  lack of action?
Do you want to build awareness and involve all your employees in your organisation's sustainability journey?
Connect the employees with the WHY of sustainability.
Today the sustainability topics are present in all the environments we live in: from your online meeting up to supermarket shopping. Creating a clear reason why your employees have to act and what they need to do in order to address sustainability it becomes even more relevant & urgent  for your business.
Initiate the call-to-action through better sustainability understanding
Invest in your employees and take the time to explain sustainability concepts and create a clear common understanding amongst your workforce. Provide a foundation for your workforce to build their green abilities and take action within your departments.
Empower employees' ability to achieve change they would like to see in personal and professional levels
By becoming aware of social, environmental, and economic challenges your employees will explore how your organisation can address global and local issues. Build a conversation around what changes need to be achieved so they can transform sustainability challenges into business opportunities.
Get a glimpse of the product
A customised report for your organisation
Scope the sustainability challenges that could affect your organisation and get insights into your employees' ideas and vision.
For each module, you will receive a personalised report with input from your employees in relation to sustainability and to your organisation's strategy. This valuable information is gathered and presented to you in a report after completing each module and can help you evaluate the perspectives of your employees.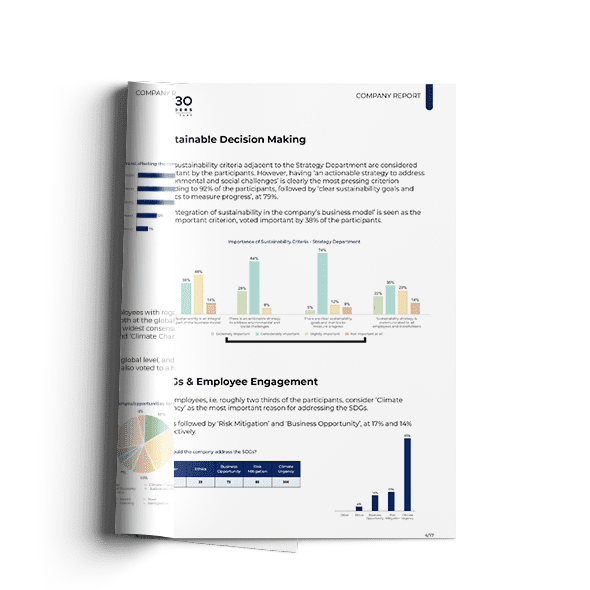 Book a free 30 minutes demo !
In our 30 min demo, you will :
Discover our modules
Find the best fit for your organisation
Explore your customisation options
Learn how others implemented sustainability
Get an answer to all your questions with a Q&A
You may be interested to see also this stages
Employee engagement and upskilling
Enablement of actionable ownership & KPIs delivery
Decentralisation of sustainability actions across the organisation