This stage is recommended to companies with new strategies or to the ones who want to refresh or strengthen their strategy goals inside the organisation.
Challenges we address
Do you feel that your employees are disconnected from your organization's goals,  values, mission, and vision even though you did a strategy roll-out? Do you have a new strategy that you would like to communicate to your organization?
Align the entire organisation's strategy in order to mobilise the collective movement
In the midst of Industry 4.0, has your strategy communication become digital as well?
Align your organisation with the strategy by giving your employees the opportunity to understand the strategic direction of your company.
Every organisation has faced its own unique set of challenges in light of recent events, but one remains consistent. After 1 year of remote work, many employees are disconnected from the company's mission and vision and you don't need a survey to tell you that! Organisational agility lies in strategic delivery and alignment (implementation). We talked with a lot of companies, and many do not have a strategy to adapt to the market in light of recent fluctuations?
Employees will perform tasks that are mindful of your organisation strategy and sustainability KPI's
Your employees will become more aware of your organisation's strategic goals. They will explore their roles and responsibilities and actively bring up ideas to contribute to the organisation's strategy. Secure strategy success through real employee contribution and ground their everyday roles in your organisation's mission. 2030 Builders supports your strategic achievements by translating macro KPIs into individual targets.
Employees are inspired by a greater sense of purpose and become more dedicated to grow the business
Do you know what separates successful strategies from failed ones? Employees are the critical success factor of your strategy. An engaged workforce driven by a connection to your organisation's higher purpose will help you reach your vision and go beyond.
Get a glimpse of the product
A customised report for your organisation
Scope the sustainability challenges that could affect your organisation and get insights into your employees' ideas and vision.
For each module, you will receive a personalised report with input from your employees in relation to sustainability and to your organisation's strategy. This valuable information is gathered and presented to you in a report after completing each module and can help you evaluate the perspectives of your employees.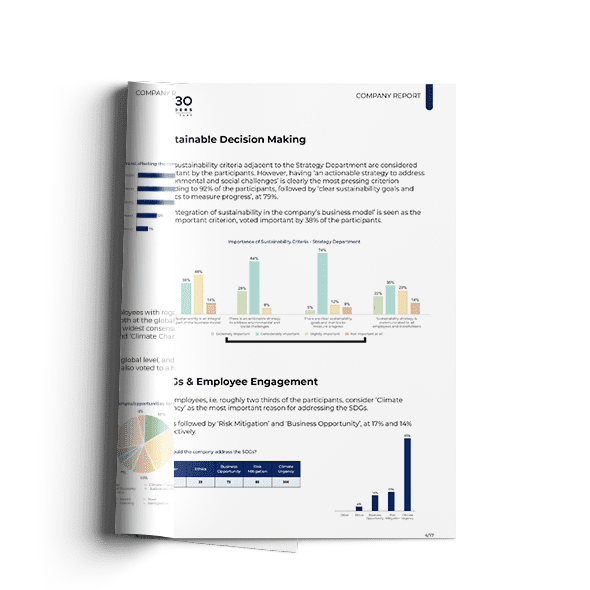 Book a free 30 minutes demo !
In our 30 min demo, you will :
Discover our modules
Find the best fit for your organisation
Explore your customisation options
Learn how others implemented sustainability
Get an answer to all your questions with a Q&A
You may be interested to see also this stages
Clear sustainability understanding
Employee engagement and upskilling
Enablement of actionable ownership & KPIs delivery
Decentralisation of sustainability actions across the organisation