Engagement & Green Upskilling
Activate your employees through a green upskilling program and discover their  innate barriers and desires for professional development in a fun and interactive way.  
Which skills do we need to be equipped with for the future?
A smooth transition to a green economy requires a massive shift in capabilities. The capacity to learn and evolve is the key to staying successful as an organization and as an employee, in times of continuous change.
Discover the latest research findings about Green Upskilling and what steps Companies and Employees should take in order to be successful in their Sustainability journey.
Download our e-book "50 Shades of Green Upskilling" here.
Motivation & Purpose
The power of motivation gives employees a greater decision autonomy, enabling them to master the skills they want to develop, and creates purpose.

Sustainability capabilities
Your organisation capabilities will make or break your sustainability goals. Design and champion sustainability projects and empower managers to embed sustainability in every project.
ESG Competences
Delivering on an ESG strategy can create a competitive advantage on the market. We help you create a shared understanding of key value creators and align your communication to stakeholders.
I appreciate 2030 Builders for combining well-founded sustainability expertise with tech know-how and learning science. The interactive sessions make it easy to learn because they make people interact, reflect and discuss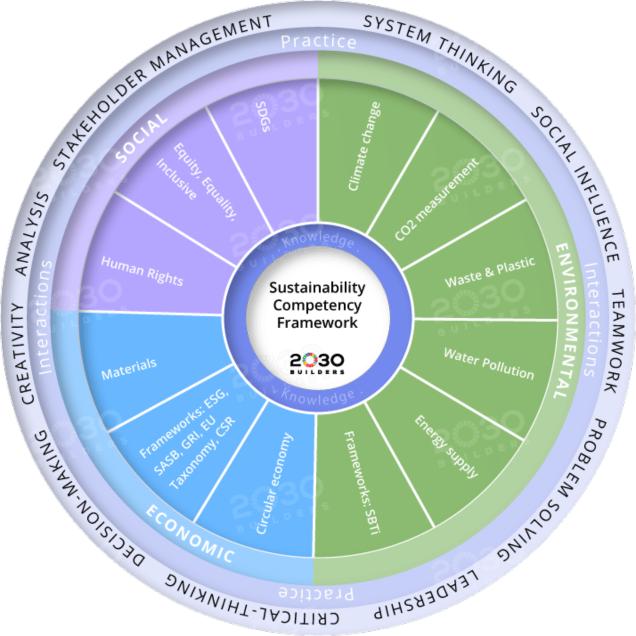 Discover 2030 Builders  Sustainability Capability Framework
Our Capability Framework provides a common ground to employees and guidance to organizations, advancing a consensual definition of what sustainability as a competence entails.
This framework defines a set of knowledge, skills, attributes/behaviours that can help organizations map and identify their employees' sustainability knowledge, analyze the gaps and create a clear roadmap to develop an upskilling strategy.
Why a capability classification framework is crucial for employee development?
Gain time in identifying gaps
Establish a brand reputation in order to attract new talents
Provide employees with management expectations
Ensure that values are shared in a work environment
Deliver data insight about performances and efficiency
Create a culture of professional development
Build ESG competences
Enhance your workforce' green skills and ensure they are ready for the green economy demand.
Explore
Provide clear and relevant information to make your workforce understand how what they do on a daily basis connects to the organisation's ESG strategy and goals.
Examine
Encourage your employees to acquire skills and practices in a creative, human environment where an open communication line allows them to share their new ideas.
Evaluate
Build your employees' self-esteem and confidence in order to boost their motivation in the workplace and improve their performance.
Execute
Empower your workforce to become agents of change and advocates, let them spread the good word and reinforce your ESG reputation towards all the stakeholders.
Our training topics
Whether you're looking to enhance your sustainability competences with ready-to-use content or delve deeper into customised concepts that align with your unique goals and objectives, we cover what you need.
 Benefit from carefully curated

45 modules,

readily available
Choose from over

200 concepts

related to sustainability
Explore our

ESG subjects

to suit your specific needs
Select the

levels of expertise

– basic, intermediate, and advanced – that best matches your current knowledge and desired growth.
Select from the available topics or contact us for a customized sustainability training
Environmental sustainability
Climate change
Marine litter
Biodiversity
Energy
Pollution
Mobility
Waste Water
E waste / Digital waste
Carbon neutrality
GHG and SBTIs
Earth day
Product Environmental footprint
Global resource and resource use
Land degradation and restoration
LCA Plastics
Social sustainability
Health and Safety
Sustainable Development
Goals
System Change Compass
Corporate social responsiblity
Corruption
Diversity, equity and inclusion
Human rights
Gender equality
Fair labour practices
Privacy and Data security
Workers welfare
Supply chain labour standards
Commitment to communities
UN Global Compact
Economic sustainability
Packaging
Circular Economy
Greenwashing
Climate Finance
ESG
Global trade dynamics
E waste / Digital waste
Green Deal and CO2 Taxation
Product innovation and digitalisation
Product design and quality
Sustainable Standards
Policy Reporting -> EU
Taxonomy and CSRD
Regenerative economy

Urbanization

Climate reporting for suppliers (science based targets, decarbonisation)
Organizations have the responsibility to support their employees to acquire new skills, adapt for future jobs and become fosters of talent.
40% of workers will require reskilling at six months or less by 2025
94% of business leaders report that they expect employees to pick up new skills on the job vs 65% in 2018
Source: Future of Jobs Report 2020
Nurture

the skills and

thrive

in the future
Book a demo and you will:
Discover the content available
Explore customization options
Hear about our methodology
Take a glance at the data dashboard
Learn how we helped other organizations upskill their employees
Get all your questions answered
Situation A leading global heavy industry company providing heat transfer, separation and...