The Upcoming Green Revolution
The world has witnessed a rush of changes in the last century that were prompted by discoveries such as the computer. The Digital Revolution forced the workers to adapt to using the computer, as well as the wave of other technologies that followed. The reality is that evolution is constantly occurring, and at higher rates with each year that goes by. It is thus important to predict what kind of changes we can expect next. The most urgent challenge the world is facing right now is — as you've anticipated — climate change. Therefore, we need to upskill and accelerate the green transition. What does that mean?
We have been developing unsustainable ways of utilising energy and land, along with unsustainable lifestyles, patterns of consumption and production. As a result, the global temperature has been rising, disturbing natural balance and threatening both human and animal life. To limit this phenomenon, the planet is forced to move towards more sustainable practices, and therefore revolutionise entire industries.
The climate crisis is inevitably going to shift the global economy as we strive for transitioning to a green economy. As a result, the UN estimated up to 60 million new jobs emerging on the market by 2030.
Why Upskilling is Winning
A dynamic future means employees should always strive to strengthen their skill set. This process is called upskilling, and it's necessary for staying relevant to the labour market. In other words, it is a workplace trend that promotes continuous learning aimed at expanding the competencies of employees. Upskilling can help workers future-proof themselves against workforce disruptions, but it can also rekindle their passion for their job. In turn, this may improve their performance, as well as allow them to explore opportunities for growth.
Companies introduce upskilling to close skill gaps and remain competitive in their industry. Closing skill gaps entails minimising the difference between the current skill level and the level needed to accomplish certain goals. Upskilling can increase employee retention, which is beneficial to the companies as they save money and time in the process. It can also help build a tendency to remain longer in a company where there is room for personal and professional development.
Green Upskilling — the driver for the green transition
At this time, the human resources required to power the green transformation of the economy are limited. This is due to a lack in green skills — those that enable the environmental sustainability of economic activities. The Green Skills report from LinkedIn indicated that in five years, jobs requiring green skills grew by 8% annually. However, the share of workers with green skills had only grown approximately by 6% annually. This imbalance suggests that green skills need to globally increase across industries to match the upcoming demand in jobs. The report also showed that hiring of green talent has been accelerating faster than overall hiring. This trend started in 2019 and has further been amplified during the pandemic.
To some extent, the expectation of change already exists among workers.
Indeed, automation will likely interfere with the job market, which is why being aware and preparing ahead is important. Acquiring novel skills will be pivotal in the new jobs taking over the market, such as green jobs.
Competency Framework as a guiding star
Here is where green upskilling comes into play. Traditionally, upskilling is done by identifying and defining the skill gaps companies are facing. In the case of green upskilling, what are the areas of sustainability the company will focus on? How do we achieve the green transition? What are the expectations and requirements for the workers? How much do they already know and what is it they don't? This process can be facilitated by competency frameworks — structured visualisations of the competencies required by individual roles in an organisation. The framework defines a set of knowledge, skills, attributes/behaviours that align with the central goals of the company. The aim is to ensure that work is performed towards shared values. It provides employees with established expectations, while enabling development and opportunities for advancing within the organisation.
Yet, a framework is not sufficient, as upgrading competencies is a complex process that involves creating an upskilling strategy and engaging employees. How does a company deliver both the optimal environment and the information to fill the gaps identified and reach their objectives?
Ways to go about upskilling
Learning and development
The process of encouraging development through learning programs created based on skill gaps. The main steps are setting the learning objectives, designing the content for the training and workshops, as well as monitoring and evaluating the outcomes.
Job enrichment
A strategy that entails adding new activities to a job to increase skill variety and expand abilities.
Peer coaching/mentoring
Either colleagues from different job roles learn from each other, or more experienced colleagues teach and provide guidance to others.
Outsourcing
Using an external party that can provide the expertise in both knowledge and methodology to deliver specific competencies.
To tackle green upskilling, the learning and development process has to be dynamic and continuous. The once in a while training and workshops may offer the employees some information and engage them in the moment. However, research has shown that turning behaviour into habit can take up to 8 months of constant repetition. Hence employees require more support to transform the knowledge into competencies and sustained behaviour.
Beyond green skills — acquiring the skills of tomorrow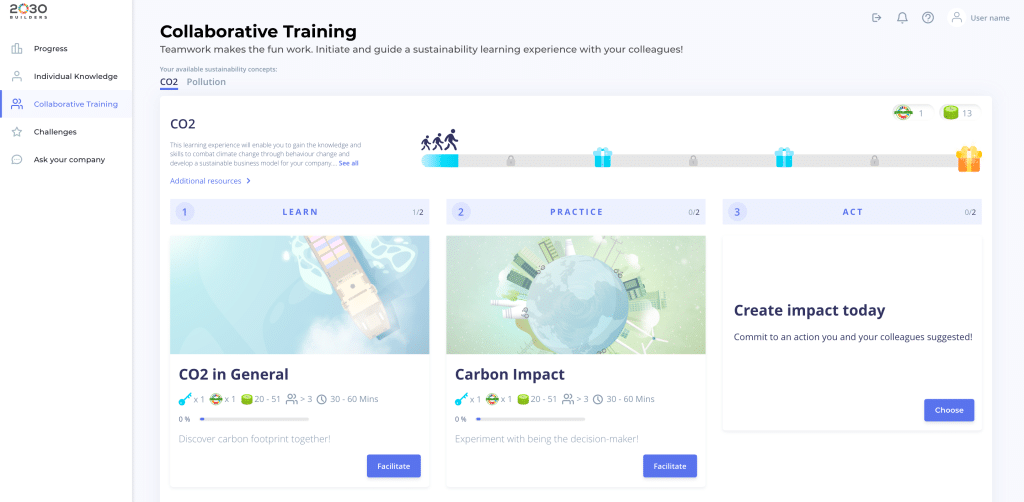 With that in mind, the 2030 Builders presents a platform that can holistically support the learning of sustainability concepts in your company. The platform caters both to the company and employees' needs by allowing personalised paths and customisation of content. Here, we take a 360 degree approach to learning sustainability, delivering knowledge individually and collectively in a fun way. Through practice and interaction, your employees will be all set for cultivating critical-thinking, decision-making and other sustainability skills that can empower them to take ownership in the work place.
We take into consideration the necessity of flexibility. We want the time and location of the learning to be a relief for workers rather than a constraint — they can access content anytime and anywhere so that it fits their schedule. Mechanisms linked to maintaining motivation, increasing knowledge retention and employee engagement are also part of our algorithm. We know that developing competencies for sustainable practices takes more than just providing information. Lastly, we want your employees to thrive in sustainable system thinking — understanding sustainability from a holistic perspective. How does it relate to social, governing and economical aspects? How are they all connected and influencing each other? We believe that this is how we build the mindsets of the future and fuel the green transition.
Book a demo to see what we're all about!
Written by Stefana Darvariu