From ESG compliance to ESG culture
Experience the 3-in-1 Advantage
Discover a single platform that combines education, engagement, and reporting, providing a holistic solution to elevate your sustainability efforts.
Education
Receive individual learning on various sustainability topics, empowering your employees with the knowledge and skills to make a meaningful impact.
Engagement
Embark on a fun and interactive learning journey, fuelled by rewards and certificates, keeping employees motivated every step of the way.
Report
Access comprehensive data to monitor your employees' sustainability progress, enabling you to make informed decisions and strategize for the future.
Why Prioritize Sustainability Education and Engagement for SMEs
Drive Business Growth: align employee actions with your company's sustainability goals and values to boost overall business performance and success.
Strengthen Stakeholder Relationships: build trust, foster transparency and strong relationships with your stakeholders.
Mitigate Regulatory Risks: ensure compliance with ESG regulations, equip employees with risk assessment skills for resource management, waste disposal, and ethical considerations, mitigating potential legal and operational risks.
Attract and Retain Talent: enhance credibility and brand reputation by having a sustainability focus.
Access Financial Support: differentiate your value preposition and increase funds accessibility.
Unlock Cost-Saving Benefits: empower and activate employees to optimize resource allocation with sustainability knowledge
Meet the sustainability criteria that your customers demand for
Why us
Relatable and actionable content. Access engaging and practical content that resonates with your employees
Engagement methodology. Unlock best practices in sustainability that keeps participants actively involved and motivated throughout the learning process
Customer requirements expertise. Tap into our expertise of compliance and requirements in sustainability in big organisations
Actions to be reported on. Monitor your employees' sustainability progress and drive continuous improvement.
Localisation. Cascade the same learning path to different geographies.
Rewards and certificate. Recognize and reward the achievements of your employees with certificates and incentives.
A comprehensive range of topics to choose from
Environment
Intro to ESG
Pollution
Supply Chain and Climate Change,
Biodiversity
Climate Change
Carbon Retail
Energy
CO2
Waste
Social
Gender Equality,

DEIB (Diversity, equity, inclusion, and belonging)

Human Rights

Supply Chain and Social Ethic

Health and Safety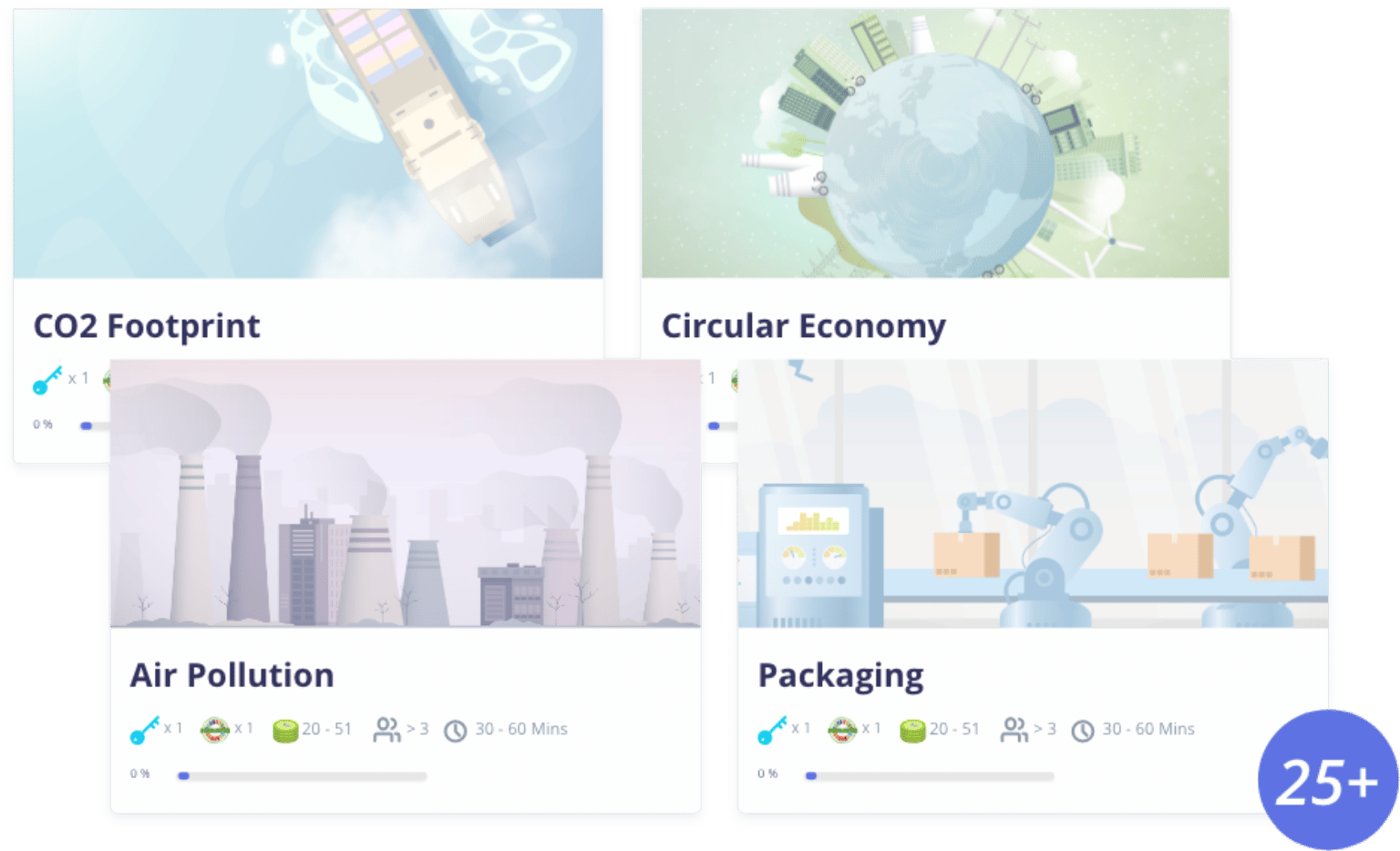 Choose the solution best suited for your company.
Green
e-learning

Exercises

Actions

Challenges

Team Competition

Nudging

Town Hall

Translation

Data Reporting

1 Manager
Greener
e-learning

Exercises

Actions

Challenges

Team Competition

Nudging

Town Hall

Translation

Data Reporting

2 Managers
Greenest
e-learning

Exercises

Actions

Challenges

Team Competition

Nudging

Town Hall

Translation

Data Reporting

3 Managers
Don't miss the chance to educate your employees in Sustainability

Get an offer and embark on your sustainability success story
Not ready now? Please tell us when to contact you