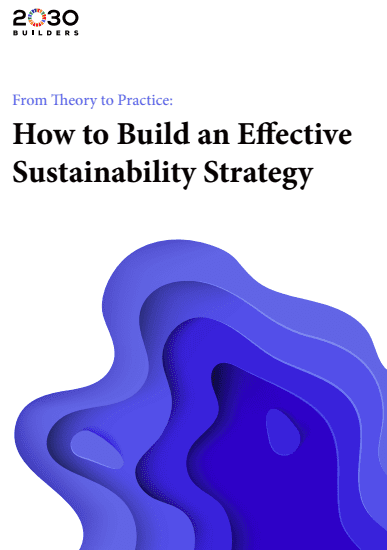 Are you eager to explore the ins and outs of crafting a sustainability strategy that truly makes an impact?
Join us on a journey that begins with establishing ambitious goals and extends to fostering a company-wide culture of sustainability. From there, we delve into the nitty-gritty of formulating a well-rounded strategy and uncover the keys to generating value and retaining customers and employees.
50 Shades Of Green Upskilling
A smooth transition to a green economy requires a massive shift in capabilities. The capacity to learn and evolve is the key to staying successful as an organization and as an employee, in times of continuous change.
Discover the latest research findings about Green Upskilling and what steps Companies and Employees should take in order to be successful in their Sustainability journey.
Download our e-book "50 Shades of Green Upskilling" here.
Sustainability & CSR Strategy
This e-Book provides a simple overview of why working on the SDGs can be beneficial to businesses and other organisations. Together, we explore how the goals hold the potential to transform Corporate Social Responsibility (a cost centre) into Creating Shared Value (a profit centre). Among the 17 Goals, we chose to focus on some of the most important ones to implement sustainability in your organisation's strategy.
R&D
The importance of Research & Development in creating the competitive advantage for business and succeeding in sustainable development is proven. In addition, R&D needs to foresee and anticipate future problems. To make  day-to-day activities progress, R&D teams needs guidelines and a framework, based on which they can make decisions regarding their concepts and
product features.
In this e-Book, we selected some goals to show you where R&D projects can be aligned with the SDGs, while bringing competitive advantage and economic opportunities to the business.
Marketing & Communication
As people are now increasingly interested in the Global 2030 Agenda, it is crucial for organisations who work with the SDGs to share their ideas and progress in this field with their audience.

To illustrate how these stories can be beneficial to your company, we have selected several SDGs and their related targets. We provide you with specific examples and guidelines on how to implement the SDGs in your marketing and communication strategy.
Management
For companies, working with the SDGs can increase productivity, lead to competitive advantage and increase profits, while creating positive impact.
With this e-Book, we aim at communicating how the SDGs can be an opportunity for your company, rather than a challenge. Several Goals and targets have been selected in order to provide you with useful insights on how to drive your business based on these practices.
Let us know which topics we should write more about in our e-books!