How do you handle special occasions in terms of sustainability? Maybe you have already implemented eco-friendliness into your business. Maybe you have already created a paperless company, encouraged employees to bike in the morning instead of taking the bus or praised their effort of bringing lunch boxes rather than storing food in a plastic bag. Although in October, the planet stands in front of another huge sustainability culture challenge – Halloween.
Why is Halloween such a problem?
Do you even know how Halloween started? Many see Halloween as an American tradition but it actually came into existence here in Europe. The inventors were the Celts who lived approximately 2000 years ago. They believed the night before All Saints' Day is the time when borders between living and spirit worlds become thinner. Halloween was adopted by the United States in the 18th century.
Nowadays, Halloween is a wonderful opportunity for consumerism to shine at its finest. Shops fill up with plastic skeletons, fake spiders and other scary decorations. Pumpkins are delivered in different shapes and sizes, which are then judged daily by hundreds of customers. During this commercial process, pumpkins get damaged or are considered ugly and eventually thrown away at the end of the day. Candies offered at Halloween parties or to trick-or-treating children are usually packed separately in single-use plastic. Buying a new costume every year also supports fast-fashion chains to supply more thematic clothes. This causes great suffering for the environment and third-world workers.
"Halloween costumes have indeed followed the steps of fast fashion," says Myriam Laroche. She is an expert in sustainable fashion and the founder of Vancouver Eco Fashion Week. However, businesses can use this opportunity to raise awareness of sustainability and have an eco-friendly Halloween instead.
If you plan on a sustainable office Halloween party, we have collected 5 useful tips for you:
1. Send E-invites
Inviting employees to a party has never been easier. Instead of using paper, get creative with an illustrator and send out digital invitations with spooky ghosts and black cats all over it. It is cheaper, faster and better for nature.
2. Rethink, reuse and recycle decorations
Pumpkins are simply a must-have at any Halloween party. Instead of choosing plastic ones, visit a local vegetable market and search for them there. Your decision helps not only the Earth, but also supports local agriculture and small businesses. Real pumpkins might be used for seeds and the rest can be easily decomposed without a harmful trace afterwards.
Certainly, if you have held an office Halloween party before, reuse previous decorations or ask your employees to bring those they won't use at home. And for those of you, who are still unable to fully decorate the office space with eco-friendly and sustainable decorations then, 2030 Builders provides 3 additional ideas:
Keep it natural:
Autumn wreaths, colourful leaves, pinecones and chestnuts. Nature has always provided us with everything we have ever desired. This is not only children's fun. Collect the most organic decoration yourself, put it wherever you prefer and give the party a real, autumn atmosphere as well as keep in mind sustainability.
Scary mirror:
Ask your colleagues if anyone has lipstick they do not use. Write or draw something on bathroom mirrors as with blood. Write a scary message, draw bats and ghosts or try moustaches and hats for funny mirror selfies available during the party.
Rolled paper monsters:
Collect paper rolls, paint them black, glue them on a bandage and add googly eyes for a mummy. Skip the bandage and attach wings for a bat. Fantasy has no limit.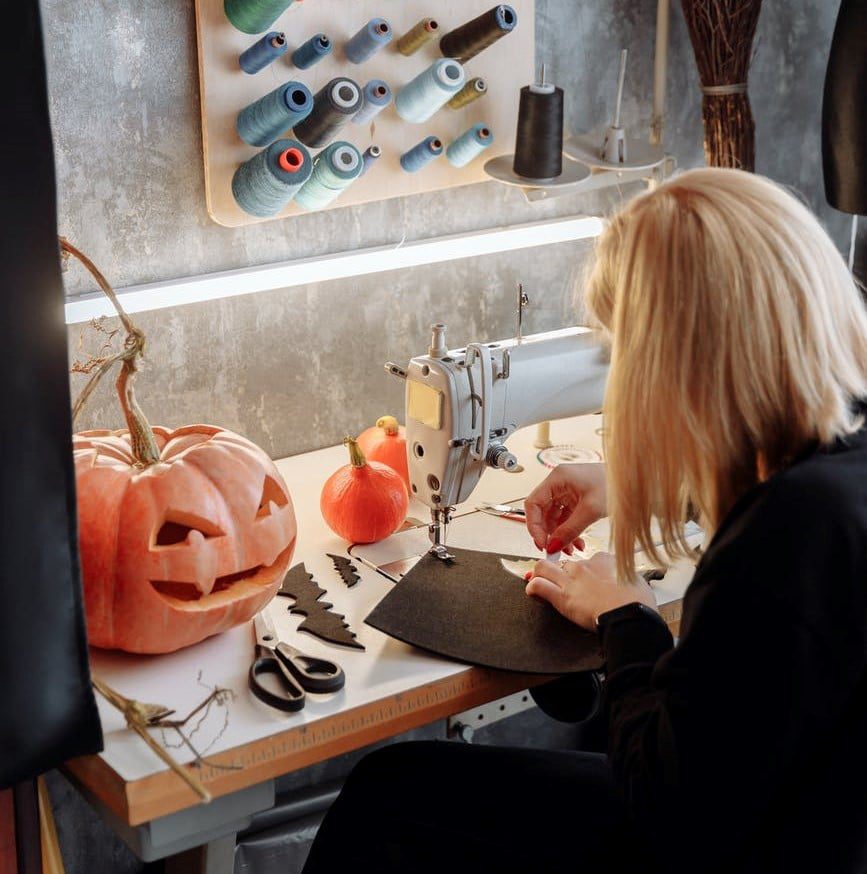 3. Candies differently
As aforementioned, classical Halloween sweets are single-packed and after eating them, we are left with a pile of unwanted wrappers. Although we live in an amazing era, where we can choose between sustainable and unsustainable solutions for almost any situation, classical Halloween sweets remain the most popular choice for trick-or-treating. Forget the latter and let us present ways for achieving the former. Zero-waste shops have opened probably all around the world already in support of sustainability. Customers bring their own storage units, big or small, and choose from a variety of raw goods without a package. If no zero-waste shops are near, remember to choose fairtrade, organic or vegan products instead. Lastly, you may approach employees and ask if they would like to prepare home-made sweets, such as brownies and cookies. The party then becomes more familiar and the treats more cherished.
4. Make smart costume choices
The citation from Myriam Laroche states it clear and loud. Halloween is an enormous supporter of mass production in the fast-fashion industry and consumers in general. Sociologically speaking, it is probably one of humanity's worst habits. Therefore, this year, when thinking about what to put on for an office Halloween party, try to hold a costume swap. Encourage employees to replace old costumes and masks with borrowed ones from a family member, a friend, a neighbour or even another co-worker. The artistic personalities might also like the thought of creating a costume from the unworn clothes they have been considering throwing out. It helps the environment and people too, as fast-fashion pieces contain dangerous chemicals. The chemicals are then soaked in through the skin into our bodies and can cause serious harm and health problems.
5. Ask employees to take home leftover food from the party
Every year the world wastes approximately over one billion tonnes of food, which stands for one-third of the overall produced capacity for consumption. Of course, the number also comes from production failures and food damaged by parasites on fields, but with so much still edible food to give otherwise, we would be able to find a solution to hunger quickly. We need to teach ourselves and future generations to pay respect to hardworking farmers and cherish meals, which we daily take for granted but are not guaranteed.
The advice written above does not apply only to Halloween matters. All Saints' day celebrated on the 1st of November is common in eastern European countries. Families traditionally visit cemeteries to light candles for members who are no longer with them. This action produces tonnes of waste yearly. Many choose plastic over fresh flowers, trash around during the visit and don't toss out old decorations from the graves properly. Supporting the image of praying and remembering is important here. People bring numerous decorations in the belief of the more, the merrier. What really can help with this problem is explaining a prayer or a remembering story from a late relative's life, which can be stronger than that and costs nothing.
Halloween has been successfully spreading all around the world. With that, environmental issues connected to the celebration increase as well.
"By 2005, just over half of adults celebrated Halloween. Today, that number has grown to over 70 per cent. Those between 18 and 34 years old participate at the highest rate, and they're also the holiday's biggest spenders…" wrote Linus Owens in 2018 after conducting research as an associate college professor of sociology.
The Earth is in need of educated celebrators. At 2030 Builders, we make sure the educational process is fun and original.
We have to change our habits drastically, step out of our comfort zones and rethink daily decisions in order to save the planet. 2030 Builders helps put in place changes and brings a fresh perspective on sustainability in workplaces, which can contribute to the needed change. We provide an engaging experience and a safe place for trying, learning and practising sustainability skills. Book a demo or schedule a meeting with us and see what solution would suit your company the best on the journey towards a better future.