Recognise employees to retain talent in sustainable way
Organisations are constantly searching for the key to employee retention. Moreover, for 47% of human resources professionals, retention and turnover was their "top workforce management challenge" in 2018 (Society for Human Resource Management). 43% of employees surveyed for TINYpulse's 2019 Employee Engagement Report said they were "willing to leave their companies for a 10 percent salary increase" (Green).
The pandemic-induced shift to remote work has only exacerbated this issue. According to Microsoft's 2021 Work Trend Index, "over 40% of the global workforce [are] considering leaving their employer this year." How can your company avoid this? The answer might be simpler than you think. Recognise what your employees are doing and employee sustainability culture. Celebrate success, and try saying "thanks."
The need for acknowledgement
In an experiment exploring the effect of recognition on motivation, MIT professor Dan Ariely asked participants to complete a task over multiple rounds for a financial reward. One group wrote their names on their papers and turned them in to an experimenter who looked at it, acknowledged their work with an "Uh huh," then put it in a pile. A second set didn't write their names, and the experimenter added their work to a pile without looking at it. The experimenter shredded the third group's papers immediately after they finished the task.
To keep doing the task, those whose papers were shredded required double the compensation of those whose work was recognised. But what about the group whose work was kept but not acknowledged? They required almost as much money as the people whose work had been destroyed. Says Ariely, "Ignoring the performance of people is almost as bad as shredding their effort in front of their eyes."
Let's take a closer look at how businesses are performing when it comes to celebrating the success of their employees.
Employee recognition within organisations
WorldatWork conducts regular surveys regarding trends in employee recognition. They define this as "a spontaneous gesture of thanks or a structured or planned program of recognition implemented to acknowledge employees and achieve desired performance." Their research found from 2015 to 2019, the number of employers without established recognition policies increased from 12% to 19%.
Taking this trend into account, it is perhaps unsurprising that the survey also discovered "only about half of senior managers view recognition as an investment" (Bolden-Barrett). This aligns with the results of a 10-year study by O.C. Tanner as well. Researchers found 65% of North American employees said their efforts hadn't been recognised even once during the prior year. Sadly, "managers often view 'appreciation'" as "a soft HR concept that in the hard business world doesn't matter much" (Lipman).
Even when companies have recognition programs in place, they may not be effective at celebrating success. For example, in 2020, 87% of employees surveyed described their recognition program as "stale, outdated, or used as disguised compensation." Researchers found these individuals to be 37% less likely to feel appreciated within their organisation.
But does any of this really matter? Yes. In fact, quite a lot.
Lack of appreciation
O.C. Tanner's study found that "79% of employees who quit…cite a lack of appreciation as a key reason for leaving." However, 89% of employers believe their workers leave for more money. Another survey reported "only 54% of managers think it's common for workers to leave due to a lack of recognition."
There is obviously a misalignment when it comes to workplace motivators and leadership's perception of these. Unfortunately, its impact on employee satisfaction is significant.
According to Motivosity, a lack of appreciation correlates with decreased motivation. A recent poll found "68% of respondents said their motivation is waning since no one appreciates the work they've been doing." Another 29% reported being willing to do only what their manager expected, nothing more.
And why would they do more? The TINYpulse survey found "only 1/3 of workers received recognition the last time they went the extra mile at work."
This inevitably bleeds into employees' overall perception of how much their role matters to the organisation. Just 26% TINYpulse survey participants "report feeling 'highly valued' at work." Even worse, 33% of employees believe management undervalues them.
Employees need recognition for their efforts. Otherwise, companies are missing opportunities to improve productivity, employee satisfaction, and more.
Benefits of celebrating success
Recognising employees for their accomplishments is the best thing managers can do to elicit quality work. In fact, "when it comes to inspiring people to be their best at work, nothing else comes close [to recognition]—not even higher pay, promotion, autonomy or training" (Sturt and Nordstrom).
Implementing a successful recognition program has great value. Here are just some of the benefits companies could expect to see amongst their employees:
> Increased satisfaction
> Higher productivity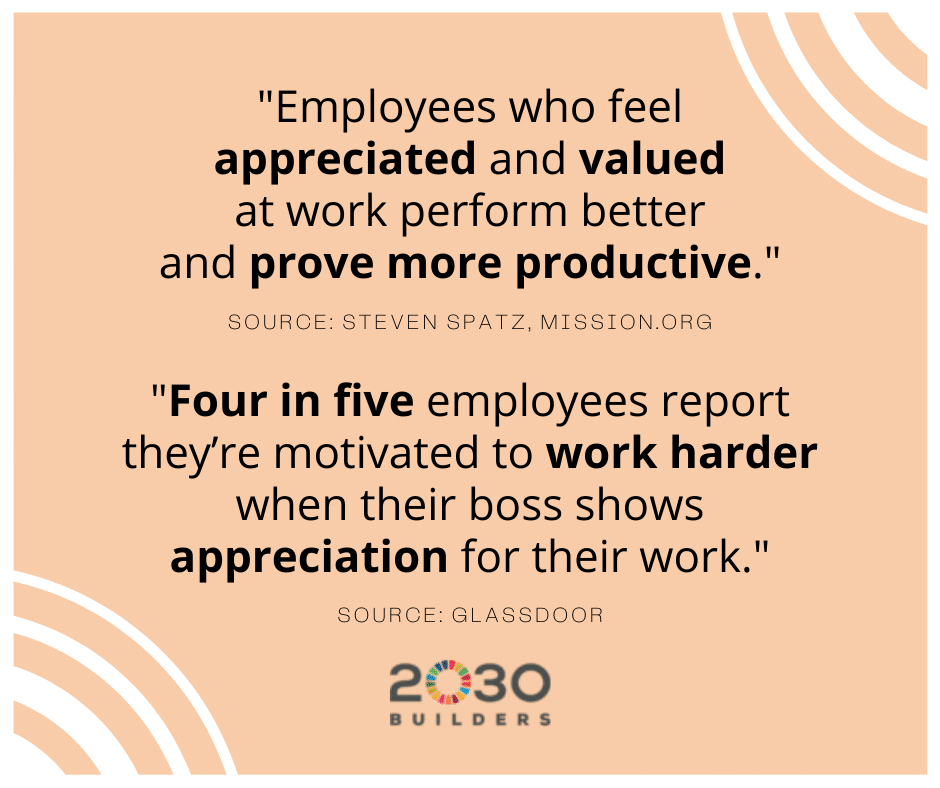 > Improved health
> Greater retention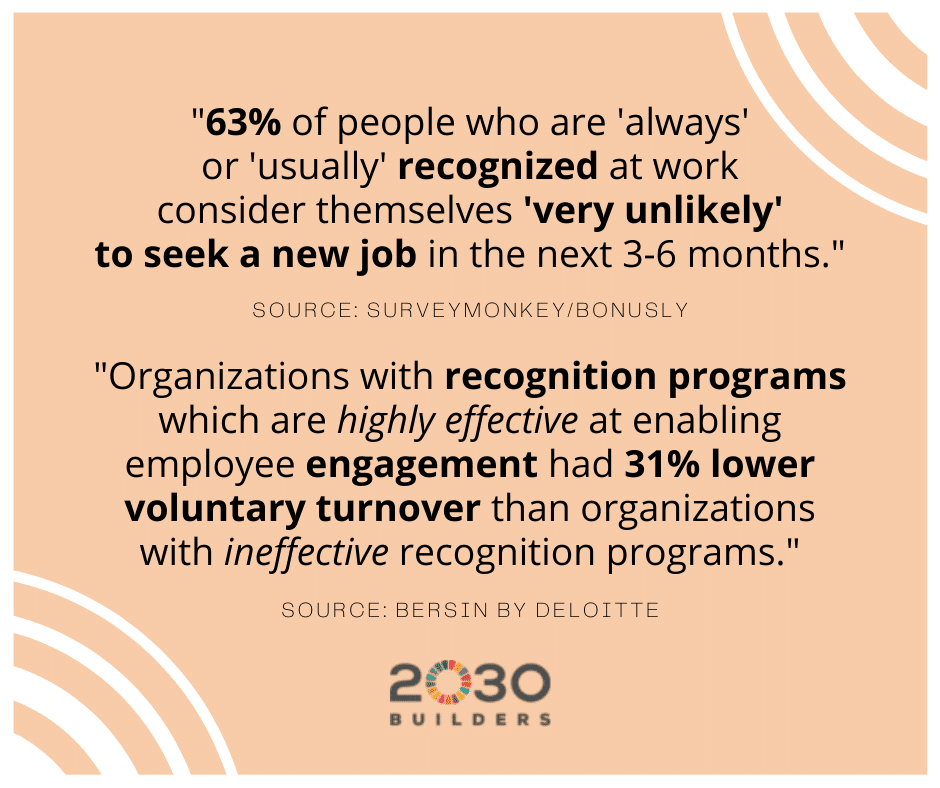 Incorporate appreciation into your workplace
Considering the high number of employees who feel unappreciated, it may seem like companies have missed the boat on recognition.
Yet, that doesn't appear to be the case. A 2017 WorldatWork survey found "nearly 90 percent of employers offer some type of formal recognition program." Most (72%) even said they had allocated funding for recognition programs as well.
It does seem, however, that there is a disconnect between a company's perception of recognition and that of its employees. Bersin by Deloitte found almost 75% of organisations reported having recognition programs, but just 58% of employees said the same.
Is your business lacking a recognition program entirely, or do you need help incorporating more meaningful acts of appreciation? Here are three ways you can start celebrating success:
1. Try saying "thanks"
Don't discount the power of a simple "thank you." A study by employee engagement platform provider Reward Gateway found that 75% of employees believed "motivation and company morale would improve if managers simply thanked workers in real-time for a job well done" (Liu). And you don't need to overthink it!
The Motivosity poll asked participants "what they would like to hear specifically from their superiors." Interestingly, "the top answer was 'thank you'" (Anderer). Want to mix up how you celebrate success? Try some of the other high-ranking responses like "I appreciate you doing that," "that was helpful," "your time is valuable," or "you went above expectations on this."
Give thought to your delivery as well, by taking into account who is receiving the message. Researchers "found workers ages 18 to 44 were most likely to prefer a mix of both written and spoken thanks from their supervisor." In contrast, "workers 45 and older prefer spoken messages of gratitude only." They also discovered men "are more likely to want a public thanks from their boss compared to women" (Liu).
2. It's best from the boss
A Gallup workplace survey asked employees to think about the "most meaningful and memorable recognition" they'd received on the job. Then, they had to identify who delivered the message. 28% said this recognition came from their direct manager, 24% named a high-level leader or CEO, and 12% said their manager's manager. The rest of the respondents said their most memorable recognition had come from a customer, peers, or "other."
With almost 70% naming a supervisor figure, the value of having these individuals deliver messages of appreciation is clear. A visit by the boss is likely a no-cost endeavour, the time investment is minimal, and saying "thanks" is free.
As such, there is no reason not to prioritise this type of recognition when possible. Especially when, for some employees, "acknowledgement from a CEO could become a career highlight" (Mann and Dvorak).
3. Find opportunities to be flexible
The recent transition to remote work highlighted for many employees the desirable nature of job flexibility. According to an Ernst & Young survey, "54% of employees surveyed from around the world would consider leaving their job post-COVID-19 pandemic if they are not afforded some form of flexibility in where and when they work."
No wonder—a report by workforce management solutions provider Quinyx found that "flexibility is one of the most important factors of happiness at work." In fact, "59 percent of workers believe flexibility is a right, not just a benefit" (Pace).
If your organisation hasn't experimented with flexible scheduling yet, try a recognition program that "giv[es] workers more power over their schedules" (Fjellborg). When employees are regularly producing quality work or going above and beyond their responsibilities, think about rewarding them.
Some possible incentives to celebrate their success? Flexible start and end times, longer lunch breaks, work-from-home days, a shortened workweek, or even sabbatical opportunities.
Consider what your company can realistically offer, then come up with clear, equitable criteria to determine who is eligible.
Remember to stay sincere
One thing to keep in mind when expressing appreciation for employee contributions is the importance of sincerity.
Many businesses have programs like "employee of the month," but these don't always have the desired effect. Instead of motivating workers, these systems frequently end up being "a matter of simply waiting your turn." In these cases, often "there's a lack of real thought behind it" (15Five).
"People respond to simple acts that express thoughtfulness and respect. When employees feel valued and appreciated, they embrace the goals of the employer, which gives them an added sense of purpose. Managers should recognize all levels of employee contributions, and feedback should be given as close in time to the action as possible." – Elle Smith, "Do Workers Who Feel Appreciated Work Harder?"
While having a recognition program is important, it will fail "if employees feel that their work is trivialized or even insulted by inconsequential incentives or insincere gestures of appreciation." Instead, "awards should be consistent with the employee's achievement and meaningful to the person receiving it" (SHRM).
Businesses should ensure expressions of recognition align with both the individual's values and the company's culture. This can help employees believe they are seen and understood, and increase their feelings of loyalty to the organisation.
Just the beginning
The tips above are great first steps toward helping your company establish a pattern of celebration. But the recognition program your business lands on "must be completely integrated into the culture of the organization."
Moreover, it should "function in a manner that is active, not passive." Make time for collaborative activities, team building, and discussion amongst employees to foster strong relationships and feelings of appreciation for peers.
With management leading by example, praise and appreciation amongst co-workers can be regularly encouraged. Over time, "this culture will foster a climate that will drive greater business results in performance, productivity, profits and employee pride" (Smith).
Celebrating success and your sustainability journey
Let's think about your organisation's sustainability goals. Just as it helps to have a culture of appreciation, it's crucial to create a culture of sustainability as well. Luckily, there are ways to tie the two together.
Go green
Consider making your employee recognition program green.
The truth of the matter is, as UCLA professor Magali Delmas notes, "altruistic consumers and people who really care about the environment for the environment are a very tiny minority." Sustainable actions often need extrinsic motivators.
If your company is able, try "reward[ing] employees for achieving green goals: reducing paper consumption, increasing recycling participation and taking part in carpooling or bicycling to work."
By celebrating these behaviours, you can help your company get closer to its sustainability targets while simultaneously recognising employee contributions. Another bonus—you can start moving from extrinsic motivators to intrinsic ones.
If organisations can "encourage staff members to adopt a green attitude, they engage employees who feel they are a part of a socially responsible enterprise." This "can in turn increase employee loyalty." Faithful employees are more likely to become advocates for your sustainability ambition, spreading the word both within the company and externally.
"While consumers say they only believe about 16 percent of what companies tell them, those same consumers say they believe 52 percent of what an employee says about a company…we need to focus on finding out whether our people are unconditional purpose ambassadors for our brand and get serious about having them tell the story." – Dr. John Izzo, 2018, "Employees Are Your Best Purpose Ambassadors"
Catalyst's "2019 report on workplace inclusion identified five hallmarks of an inclusive work environment: being trusted, feeling valued, being able to be authentic…and psychologically safe, having latitude…, and feeling secure enough to address tough issues or take risks" (Zimmermann).
Creating a culture of recognition in the workplace will develop these criteria within your organisation. This will help lay some of the groundwork for your sustainability journey.
Building on your progress
Securing buy-in for sustainability training is easier when employees already feel their contributions are appreciated. Having strong relationships between employees and management is also beneficial, as rapport and regular communication has already been established.
We can help you take these to the next level, moving beyond e-learning to create true behavioural change.
We engage your employees through our unique methodology and platform to build ownership within a sustainability culture. In our solution, participants engage in both individual and group tasks, working to resolve real problems. We provide a safe space for employees to brainstorm and practise sustainable behaviours while getting feedback and support. The results report generated from your experience delivers valuable insights that can inform future interactions between all levels of your organisation.
Want to better understand what motivates your employees, so you can communicate in a way that will make them feel valued, all while moving closer to your sustainability goals?
Book a free demo, and let's celebrate your success together.