SDGs in companies
As we have already covered in the previous articles, SDGs are important for businesses and they can help an organization identify new business opportunities and differentiate itself from competitors. The most important aspect when contemplating the sustainability goals in an organization is that they act as an incentive for business models that generate positive environmental and social impact. This is of utmost importance given the current challenges that have become increasingly urgent.
The SDGs can potentially generate $12 trillion in profits for the private sector by 2030. A study showed that if we take into consideration the savings from reduced carbon emissions, water use, and other resource consumption, the generated profit could be even higher – up to $17 trillion. The industries that these earnings would come from are food and agriculture, energy and materials, cities and health, and well-being.
"In comparison to their predecessors (i.e. the Millennium Development Goals), the SDGs are much broader and more difficult to measure. However, they represent a bold move towards a more ambitious, yet more realistic and inclusive development agenda – a golden opportunity for governments, private enterprise and civil society to work together in tackling the biggest challenges on the planet." – Nadia Kahkonen, 2015, '17 Goals to Rule Them All: How the SDGs Can Benefit Organisations', South Pole
Involving the SDGs in business is a journey
The Business Avengers recommend 5 steps companies should take when implementing SDGs in their strategy. First of all, the company needs to evaluate its impact on the 17 goals and analyze the risks and opportunities that can arise from working with them. Secondly, it requires decision-makers to work together and create specific objectives in synergy with the SDGs. These first two steps can prove especially challenging and unnecessarily time-consuming without proper guidance.
Thirdly, the company should inform stakeholders about the newly set goals and everybody needs to be on the same page. For this, the objectives have to be attainable and their economic, social, and environmental impacts need to be properly understood. Moreover, employees must be involved in creating positive change by implementing the SDGs on each team and department level.
Lastly, the organization should increase the visibility of its sustainability practices and its efforts for advancing the SDGs. This involves effective communication with the customers and the creation of sustainability reports.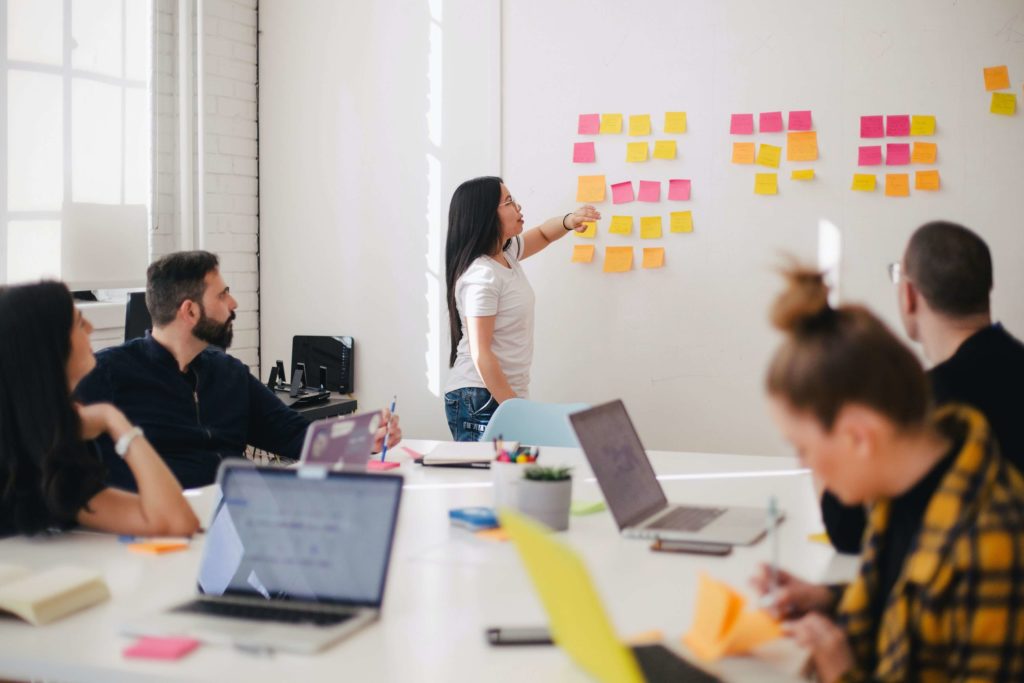 The vital role of SMEs in sustainability
In 2018, more than 25 million small and medium-sized enterprises were creating their mark in the European Union alone, according to Statista. The same source indicates that SMEs employed approximately 66% of the EU workforce in 2017. These numbers show that SMEs hold enormous potential for shifting the balance towards sustainability.
The process of involving the SDGs in an SME's strategy will be different than the one of a major corporation. Given the reduced number of employees, involving everybody and keeping them informed is generally more facile. However, SMEs also have their share of challenges when it comes to working with the SDGs.
The biggest challenge that SMEs have is most likely the financial one, according to a report by Blue Orchard Academy. The same source states that if SMEs had better capacities (mainly financial), this would lead to the progress of SDG 8 – Decent Work and Economic Growth and SDG 9 – Industry, Innovation, and Infrastructure.
Moreover, there are already countless start-ups and SMEs that seek to make a difference. They can prove positively disruptive especially in developing countries, where advancing the SDGs is especially important. However, this should not undermine the huge potential SMEs have on accelerating the SDGs in developed countries as well.
"Small and medium-sized enterprises often can't approach the goals in the same manner as large corporations or governments, but that doesn't mean it's okay to do nothing." – Carlyann Edwards, 2018, 'UN's Sustainable Development Goals for Small Businesses', Business.com
Challenges of involving sustainability goals in an organisation
But what other practical challenges will emerge when striving to involve the SDGs in a company? As we have previously touched upon, creating or updating a sustainable business plan will always bring challenges. First of all, decision-makers need to decide which of the SDGs they should focus on. For this, they require a thorough understanding of the goals and the way they are interlinked. Moreover, a holistic approach to what should be achieved in regards to sustainability in the organization will help everyone involved in the process to see the bigger picture.
Secondly, the process will inevitably involve different teams. In order to create impactful change, businesses must work to include SDGs at all levels. This means that decision-makers are not the only ones that need to engage the SDGs. A considerable part of employees, if not all, will have to take on the challenge of learning and understanding the SDGs, which then they can apply to their work.
Lastly, working with the SDGs may inevitably imply trade-offs. As companies strive to reach social, environmental, and economic growth with their actions, choosing to focus on certain SDGs may bring some losses in one or more of these categories. It is important to be aware of the synergies and trade-offs that working with the SDGs involves. That is why misunderstanding or overlooking the SDGs' interplay can potentially lead to unwanted results and losses.
Luckily, no one is alone in this challenge
Perhaps you already struggled with these challenges at some point in your work or even faced other issues. Or you want to bring SDGs to your company's table and do not know where to start from and what to expect. You need not despair, fellow game-changer, because help is on the way!
We already covered some programs that help companies understand SDGs better and look into ways to work with them. To bring it a step forward, we at 2030 Builders have created a Sustainability Design Sprint module that takes employees on a fun journey built on gamification. Through this experience, teams have the chance to start from not knowing anything about the SDGs to building feasible and implementable ideas. That is quite some progress, wouldn't you say?
Design what now?
To understand how this growth experience can take place, we would like to introduce the 'Design Sprint' method and how it has proven so effective. The method was developed by Jake Knapp, inspired by his work at Google. Together with two other exceptional minds, he translated his vast experience into words, which became the 'Sprint' book.
The Design Sprint can be used in virtually any industry and it takes teams through a process that will facilitate the creation of tangible solutions. It was originally designed as a 5-day process, but this can be adapted depending on the working topic and environment.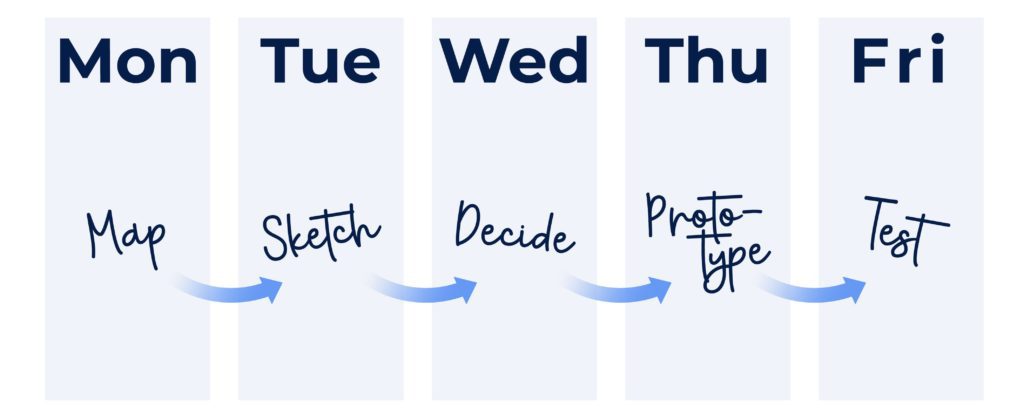 It is no wonder that Fortune 500 companies like Nike, IBM, KLM, and Spotify have used the method to generate and test unique ideas. But given its versatility, the method is suitable for any type of organization, from small start-ups and SMEs to big corporations.
Our Sustainability Design Sprint module takes your organization and employees through an interactive and collaborative process of learning about the SDGs and exploring problem-solving frameworks. This will inspire them to identify new areas of action and business opportunities tailored around the SDGs and develop an actionable strategy and a roadmap for its implementation. Moreover, we have adapted our modules for remote teamwork as well, so there is nothing stopping us from helping your company reach its goals.
Witness the sustainability progress in your organisation
Do you long to see these achievements in your organization too? Book a free demo with us and we will support you in understanding what the SDGs are all about. You can find out more about our modules by watching the following video.
"Design sprints allow you to prototype and validate potential products, services, and processes in under a week. This means you have real, concrete evidence you're going down the right path before spending millions of dollars and thousands of working hours." – Charbel Simon, 2018, '10 Design Sprints (and the Process) That Launched These Multi-Million Dollar Products', Sprintwell
References
https://sustainabilityadvantage.com/2019/07/30/7-ways-companies-can-contribute-to-the-sdgs/
https://www.nbs.net/articles/top-12-sustainability-issues-in-2020
https://www.triplepundit.com/story/2015/multi-stakeholder-collaboration-builds-sustainable-supply-chains/36541
https://www.borgenmagazine.com/sustainable-development-goals-benefit-business/
https://www.wri.org/blog/2017/04/numbers-how-business-benefits-sustainable-development-goals
https://www.theigc.org/blog/gender-equality-the-mdgs-and-the-sdgs-achievements-lessons-and-concerns/
https://www.southpole.com/blog/17-goals-to-rule-them-all-how-the-sdgs-can-benefit-organizations
https://business.globalgoals.org/
https://www.thegeniusworks.com/2020/03/business-needs-the-sdgs-and-they-need-business-embracing-the-uns-17-sustainable-development-goals-is-a-12-trillion-opportunity-for-business-by-2030/
https://www.statista.com/statistics/878412/number-of-smes-in-europe-by-size/#:~:text=Almost%20100%20million%20employed%20by,by%20small%2Dsized%20enterprises%20alone.
https://www.blueorchard.com/wp-content/uploads/1702107_SME_Report_web_final.pdf
https://www.business.com/articles/un-sustainable-development-goals-for-small-business/
https://www.fastcompany.com/90565057/how-to-incorporate-the-sustainable-development-goals-into-your-business
https://www.weforum.org/agenda/2015/08/3-challenges-facing-the-uns-sustainable-development-goals/
https://theconversation.com/first-goal-of-un-sustainability-targets-should-be-to-not-conflict-with-each-other-32577
https://www.southampton.ac.uk/blog/digitalteam/2019/06/07/what-weve-learned-from-doing-a-design-sprint/
https://www.thesprintbook.com/
https://www.boardofinnovation.com/business-design/design-sprint/